Introduction
Have you ever wondered what happens to old casino signs when they get replaced or the casino is demolished? Before I first drove past the grounds of the Neon Museum, I would have assumed they were sold for scrap metal and recycled or thrown away. Vegas is not exactly known for its appreciation of anything old. Fortunately, many of these old signs are still around, and can be found at the Neon Boneyard.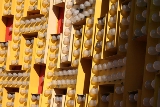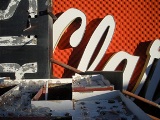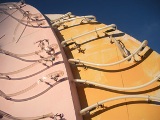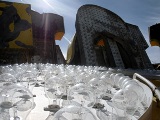 Before going further, let me explain some terminology. I refer to the "Neon Boneyard" as the dirt lot this article is about. An actual "Neon Museum" is in the making, next to the lot. Many sources refer to what I call the Neon Boneyard as the Neon Museum. Our tour guide referred to the lot as the Neon Boneyard, so I am too. Besides, museums as supposed to be indoors, sterile, and serious, not dirt lots of broken signs in the desert. To further confuse things, there is also a Neon Boneyard Park just north of the Neon Boneyard.
The owners of the Neon Boneyard and Museum obtained most of the collection from the sign maker, who had kept obsolete signs in its lot for use as spare parts. When this company no longer wanted the signs, they kindly donated them to start up the future museum.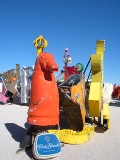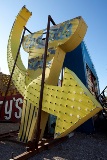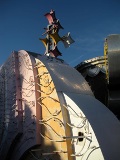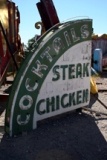 Some signs in the museum's collection have been refurbished and can be found along Fremont Street in downtown Las Vegas. The vast majority are found in various degrees of disrepair in a dirt lot about a half mile north of downtown on the east side of Las Vegas Blvd. Since moving to Las Vegas in 2001, I have driven past this lot a number of times, and every time thought to myself that I would love to have a closer look. At those times, I had no idea who they belonged to, nor who to ask.
That mystery was resolved on February 6, 2011, after reading the New York Times article Lost in Las Vegas by Matt Gross. The author spoke highly of his visit to the Neon Museum and explained how to see it.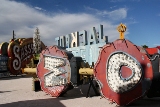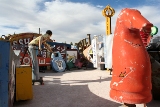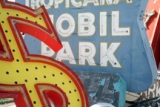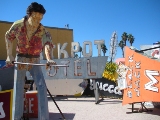 While they renovate the former lobby of the La Concha motel for use as the museum, the Neon Boneyard is available for tours at 12 pm and 2 pm Tuesday through Friday, and at 9:30 am and 11:00 am on Saturdays. There is a suggested minimum $15 donation per person, and reservations must be made in advance through the Neon Museum. After reading the article, I scheduled a tour the next week. I was instructed to meet in the temporary office space across the street in the Reed Whipple Center. The tour guide was very clear that while photography was allowed, any publication of such pictures was strictly prohibited. Everyone who wanted to take a picture had to sign a release to this effect. Although I took plenty of pictures, for this reason I unfortunately can't show them to you.
My tour guide led our group of about 20 across Las Vegas Boulevard and unlocked the gate for us. He then led us around as he explained the history behind Vegas signs in general and the history of the more interesting specific signs. As our group wandered to and fro through the signs, our guide recounted interesting stories and challenged us with trivia questions. I got to be the savant of the class, getting most of those questions right. To be fair, I doubt everyone else in the group lived in Vegas for ten years and runs a web site about the city.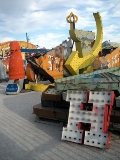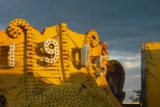 Some of the signs brought back memories for this 45-year-old. However, most of them predated my 21st birthday, and I knew them only from old pictures, if at all. For others nostalgic for old Vegas, the Neon Museum would be a unique and unforgettable trip down memory lane. Those with an interest in classic signs, fonts, or the fifties/sixties era I think would also enjoy a visit.
A lot full of rusty and broken signs may not be everybody's idea of a fun time. It would also not be a good place to bring young children, as they might get hurt on a piece of broken glass or a sharp piece of extruding metal. I think those of you would appreciate it already know who you are. To those of you, I highly recommend a visit to the Neon Museum the next time you're in town.
---
Acknowledgement: I would like to thank the Neon Boneyard for the use of the pictures you see here, which they sent to me. They asked me to say that the Neon Boneyard is not open to general admission and that a reservation is required. We recommend a week notice for weekday and 3 weeks notice for Fridays and Saturdays.
Links