Introduction
The Loews Lake Las Vegas Resort is an upscale property on Lake Las Vegas, about 20 miles to the east of central Las Vegas. It opened in 1999 as the Hyatt Regency Lake Las Vegas. In 2006, it was acquired by the Loews Corporation and renamed the Loews Lake Las Vegas. It is more like a conventional resort, like you might find in Hawaii or Florida, than what you're used to seeing Las Vegas. The theme is Moroccan, although it is not oppressive or tacky, as you might expect of a Vegas hotel. The image below I scanned from the hotel map they gave me at check in.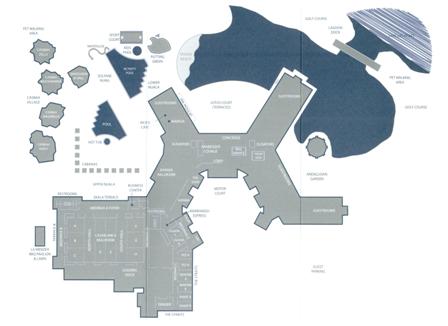 The property used to have a small casino, the Montelago. However, due to tough times in Vegas, it closed on March 14, 2010 (source). Speaking of tough times, Loews' neighbor at Lake Las Vegas, the Ritz Carlton, closed its doors completely three months later in May (source). There is talk of it reopening in 2011 (source). Lake Las Vegas itself emerged from bankruptcy in July 2010 (http://en.wikipedia.org/wiki/Lake_las_vegas). The business district by the old Ritz Carlton looks like it is hanging on for its life, and home values around the lake have dropped about 2/3 from their all time highs in 2006. Even by Las Vegas standards, that is a big drop.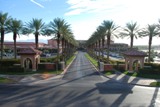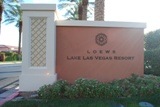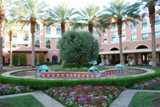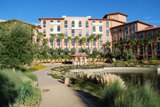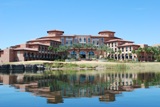 Despite all the bad news surrounding Lake Las Vegas, Loews seems to be surviving well. Although business felt slow while I was there, the property itself was immaculately maintained, and the employees were very friendly and doing a great job. Nobody was cutting any corners that I could tell. I stayed there September 10-12, 2010, when I participated in a Triathlon Sprint, which started at the hotel. This review is mostly based on my stay there at that time.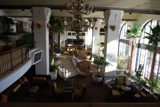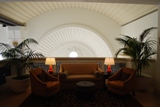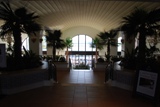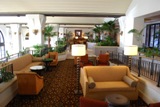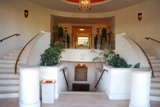 Location
The biggest problem, in my opinion, with the Loews is the location. It is way at the end of Lake Las Vegas, which is about a 30 minute drive from the Strip, depending on traffic. The hotel offers a free shuttle to and from the Planet Hollywood's Miracle Mile shops four times a day.
A few years ago, I gave a talk to an actuarial conference while the property was still operated by Hyatt. Later, I read the conference feedback. Regarding the venue, just about everybody said nice things about the hotel, except it was too far away from the rest of Las Vegas.
Hotel
The hotel has 493 rooms, including 46 suites. My ordinary room was $169 per night for a Friday and Saturday night in September. The room was very clean, comfortable, and well furnished. I'm very picky about mattresses, finding most hotel mattresses too soft, but mine was perfectly fine. The in-room coffee maker was the best I have ever seen.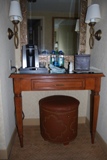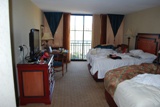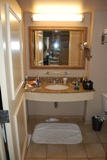 After arriving back home, my wife told me I accidentally packed the hotel hair dryer. It was easy to do, because it was in a fancy bag and looked much nicer than the cheap ones that hotel rooms are normally equipped with. I've never blown my hair dry in my life, so figured it was my wife's or daughter's. The next day, I called the hotel to confess. They said to just return it the next time I came by. In a world that normally fines you up the wazoo if you're one day late on paying a utility bill, this act of grace by the hotel was appreciated.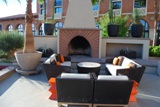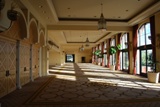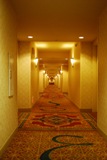 Resort Fee
I'm a big critic of resort fees. In the case of Loews, the fee is $22 per night. Considering what it covers, I think it is a reasonable price. However, I still oppose resort fees on principle alone. The following card, which they provided with the room keys, lists what the fee covers. At least they are up front about it. At most other Vegas hotels, they try to draw as little attention to the resort fee as possible.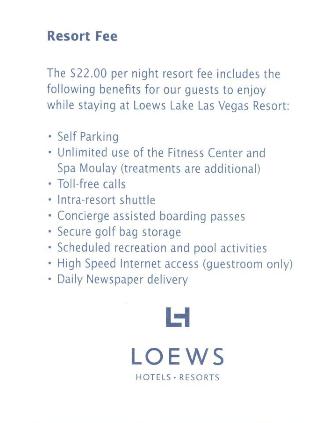 Parking
There is an outdoor parking lot close to the front door. During my stay, it was about 1/4 full only, so it was a short walk to the front door. There was no covered parking. Valet service is available at $15 per night. It is worth noting that valet service is usually free in Vegas, although a tip is expected.
Pool
Pool
In my opinion, the pool is the highlight of the property. There are two large pools: one meant for adults and one for children. Both were well landscaped, and it was not difficult finding a vacant, padded lounge chair. The children's pool had a long water slide with several turns. I would put it second only to the Golden Nugget for hotel water slides in Las Vegas. Cocktail waitress came by frequently taking orders and delivering drinks and food.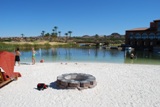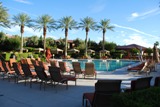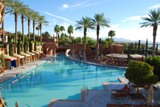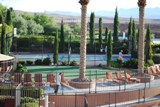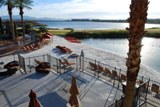 The pool also had access to a sandy beach fronting Lake Las Vegas. This beach served as the starting point for the triathlon. Later, my son and I rented a kayak and paddled around the lake. Considering the amenities, service, and comfort of the pool, I'm going to proclaim that I think the Loews has the best hotel pool in Las Vegas. It can't compare to some pools like the Mandalay Bay in terms of features alone. However, Strip pools get very crowded, and if you don't arrive early, good luck getting a lounge chair. The Loews had everything available you could want in a hotel pool.
Landscaping
I normally don't have a section for landscaping in my reviews, but Loews merits an exception. They have immaculate looking plants everywhere outdoors. A lot of guests probably don't notice it, but there are nice walking paths with labeled gardens. Worth looking for is the habitat of Speedy the tortoise.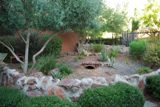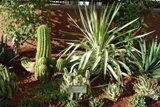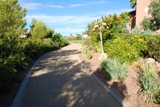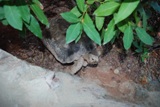 Restaurants
Formal Dining
Rick's Café: The hotel website describes Rick's Café as "American cuisine with Mediterranean influences," which I agree sums it up well. I ate there three times during my stay, and I was pleased all three times. The atmosphere is pleasant with lots of windows and colorful decor. I found the food and service both outstanding. However, watch out for the birds at the outdoor tables. One stole a French fry off my son's plate while his head was turned. There should be more restaurants like Rick's in Vegas -- more upscale than your average cafe, but not so fancy that they become extravagant and expensive.
Marssa Restaurant: The hotel website describes this one as, "Pacific Rim-inspired menu in a dramatic setting." The menu was mostly sushi, but they had a variety of other things as well, most of which I would not be able to identify. When I ate there, I wasn't very hungry, so I just had the fried rice, which was very good. The dishes the other people in my group had looked quite tasty. I almost begged for some samples. I'd love to try this restaurant again. For more information, see the Marssa website.
Casual Dining
SandsaBar & Grill: This is the poolside snack bar. I didn't try it but saw lots of people snacking from there at the pool, and everything looked tempting.
Marrakesh Express: Coffee shop with a good selection of bakery items. I had a muffin, which was good but a bit expensive.
Other Amenities
Here are some other features to Loews, as taken from their web site, which I did not have the chance to experience.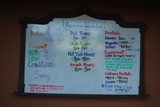 Kid's Club
Spa Moulay: The hotel web site says it has, "11 treatment rooms, full-service beauty salon and complete fitness center featuring massages, skin therapies, manicure and pedicures."
Fitness center
Lake rentals: Besides kayaks, you can rent pedal boats, canoes and electric boats to explore Lake Las Vegas.
Laundry/dry cleaning
24-hour in-room dining
Golf available at SouthShore Golf Course, two miles away
Tennis court
Summary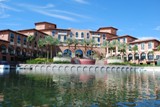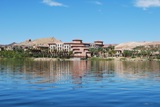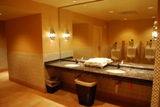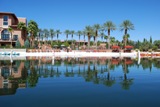 Overall, I was very impressed with Loews. If the location away from the Strip is not too inconvenient for you, and it is in your price range, I think Loews would be an outstanding choice. Vegas locals should also consider it as a convenient get away. Aside from the climate, you would never realize you're so close to Las Vegas.
Contact Information
Address: 101 Montelago Boulevard, Lake Las Vegas, NV 89011
Phone: 702-567-6000
Web site: loewshotels.com/en/Lake-Las-Vegas-Resort
Resort and Parking Fees
| | |
| --- | --- |
| Resort fee | $13.50 |
| Parking fee | Free |