Introduction
The Westin Las Vegas also goes by the name of Westin Casuarina. It opened on July 1, 1977 under the Maxim Hotel brand. It was one of the first Las Vegas boutique hotels. It was a little before its time. The megaresort era was not kind to the Maxim Hotel. The casino floor closed in 1999. The hotel remained open for two more years before shuttering.
Westin acquired the property and reopened it on November 6, 2003. It shares the same Westin Casuarina name as a famous resort in the Cayman Islands. Westin's managing partner Columbia Sussex lost the property to foreclosure in 2011. The Westin name was kept under new ownership.
Westin Las Vegas is located at the corner of Flamingo Road and Koval Ln. It is one block east of the Las Vegas Strip, which is a reasonable walking distance from the Westin on all but the hottest of summer days.
Gambling at Westin Las Vegas
The casino floor at Westin Las Vegas is referred to as the Max Casino, referring to its previous branding. It is tiny compared to most Las Vegas resorts. It measures at about 20,000 feet.
There are about 300 slot/video poker machines and nine table games. Video poker borders on unplayable compared to most casinos, even those on the Las Vegas Strip. The best game is "Illinois Deuces" that returns 98.91%, according to VPFree2. This game is only available on two machines with $1 and $2 denominations. The lower limit video poker pay tables are among some of the worst in Las Vegas.
The nine table games consist of a Big Wheel, craps, roulette, baccarat, and five blackjack tables. The big wheel has bet limits of $1-$100. Baccarat is $10-$500. Roulette offers $5-$100 betting and has two zeros on the wheel. Craps and blackjack have $5-$500 limits. Craps spreads 10 times odds and pays triple on 12.
Blackjack is all dealt from shoes. Players can double down on any two cards and after splitting. Surrender and re-splitting aces are not allowed. A player that gets a suited blackjack receives a $10 match play coupon once per day.
There is a small William Hill sportsbook on the property. It offers a typical William Hill setup with a few rows of chairs and a variety of smaller televisions. The sportsbook closes at 8pm most nights. There is a 24-hour sports betting kiosk. This location accepts deposits and withdrawals for the William Hill mobile betting app that works anywhere in Nevada.
The Max Casino players club gives 1 point for every $1 wagered at slots and $2 wagered at video poker. Players can exchange 200 points for $1 in free play. This gives slots a .5% and video poker .25% when exchanged for free play at Westin Las Vegas.
Westin Las Vegas Hotel
There are 826 hotel rooms at Westin Casuarina. All rooms are nonsmoking. Rates start at $139 during the week and $169 on weekends. There is also a $15 per night resort fee. The standard room is 350 square feet. There one and two bedroom suites available upon request.
Westin Las Vegas Restaurants
There is just one restaurant at Westin. It is the Suede Restaurant. This 24-hour café offers a breakfast buffet. It also serves a lunch, dinner, and late night menu. A small selection of items is available for delivery to the casino bar. There is also a Starbuck's on the property.
Westin Las Vegas Amenities
There is an exercise room located at the hotel. There is also a spa that provides massages and beauty services.
My Conclusion
The Westin is a reasonable solution for someone looking to avoid the Strip. The resort is upscale and offers amenities that are expected in a boutique hotel. It is just one block away from the Las Vegas Strip so it can be an alternative on weekends when major hotels become prohibitively expensive. Most gamblers will not find the casino to be up to Las Vegas standards.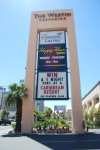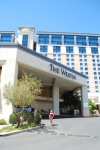 Links
Contact Information
Address: 160 East Flamingo Road, Las Vegas, NV 89109
Phone: 702-836-5900
Web site: starwoodhotels.com/westin/property/overview/index.html?propertyID=1448
Resort and Parking Fees
| | |
| --- | --- |
| Resort fee | $13.50 |
| Parking fee | Free |