Can This Promotion be Beaten?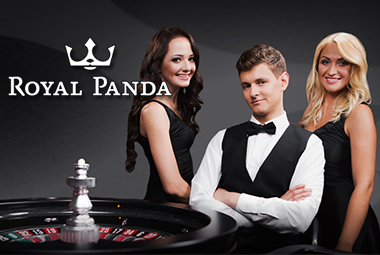 While it is news to me that Pandas had the capacity to be royal or commoners, or that there was any kind of hierarchical governing structure at all in the world of Pandas, one thing that is not news to me is that new-to-the-scene online casinos either offer promotions that are eminently beatable, or are designed to be perceived as such when they actually are not. With that in mind, let's investigate some of the offering at the Royal Panda Casino.
First of all, Royal Panda is not an entirely new online casino, though having opened in 2014, they are relatively young. The newest batch of promotions focus on their new live table game offerings, while they still have a wide variety of slot promotions, slot games, non-live table games and scratchcards. Their non-live games tend to be powered by Net Entertainment (NetEnt) and MIcrogaming and more general information can be found on the Wizard of Odds review of Royal Panda Casino:
http://wizardofodds.com/online-gambling/casino-reviews/royal-panda/
The first promotion they are rolling out is something of a, 'Fixed loss,' promotion, from their perspective, by which a player who gets three consecutive blackjacks, 'Hat trick,' will automatically win $1,000 if he is one of the first five to do it. Furthermore, this is an interesting promotion in that the player is allowed to simply withdraw the money rather than continuing to play, so there is no playthrough requirement on this promotion.
The table minimum at any of their blackjack games is $5 other than the high-limit room (why is there a high-limit room?) which doesn't say a minimum on the promotions page simply saying that the maximum is up to $10,000.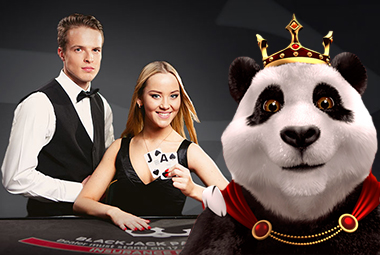 With respect to the terms and conditions, the first one is that the three consecutive blackjacks must occur within a single session of play, of course, it is highly unlikely that a player who is aware that this promotion is taking place is going to quit on a blackjack. The player must also, as stated, be one of the first five people in order to achieve same and must alert customer service as to the event in order to qualify. However, Royal Panda does state that, in the event of a service interruption that prevents the player from placing a bet to continue the blackjack streak, that the next hand played shall constitute a continuation of the original session, essentially.
Anyway, the rules of the blackjack game itself are not expressly clear on any of their pages, and I cannot determine them without creating an account and logging in, (US players are not accepted, though) so I am going to assume that the rules are the same as with their classic blackjack with a 99.6% return-to-player, or 0.4% house edge.
The probability of getting a blackjack in a given hand from the top of a single deck is 4.827%, of course, there is going to be a great effect-of-removal that will make a blackjack on the following hand substantially less likely than that assuming the same deck is played out. Of course, I have no idea how many decks are used on the live blackjack game, so I am going to assume it is six. Off the top of a fresh deck, then, the probability of getting a blackjack is 4.749%. Effect-of-removal is going to change the probability of blackjacks occurring on subsequent hands depending on what the hands of the dealer and other players are, which results in a combination of possibilities that is not only impossible for me to calculate, but would also depend on how many players were playing.
One shortcut I can use is simply to determine the probability of three consecutive blackjacks being dealt from a six-deck shoe straight up, so I think that is what I am going to use here.
(24/312 * 96/311) + (96/312 * 24/311) = .047489488
(23/310 * 95/309) + (96/310 * 23/309) = .04586073702
(22/308 * 94/307) + (94/308 * 22/307) = .04374127501
To get the combined probability, we simply multiply those results together, which I would have done all at once except it would look clunky and not be clear to the reader what I did: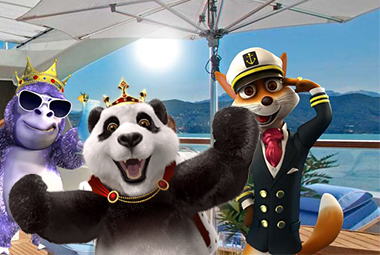 .047489488 * .04586073702 * .04374127501 = .00009526425
Assuming that you would win $1,000 if this happened to you, and I would periodically ask customer service if it had happened to five people yet, the value would be about 9.526 cents per three hands. If the player must bet a minimum of $5 of which he is expected to lose 0.4%, then the expected loss per hand is exactly two cents per hand resulting in an expected loss of six cents per three hands on the base game and an overall profit of 3.526 cents per three hands as a result of the promotion, or 1.1753 cents per hand.
Of course, we cannot know how many people are playing live blackjack at any one time, but the possibility of competition does diminish the value of the promotion slightly. To wit, if four of them have already happened, then another player could get it at nearly the same time you do, or after you, but is somehow adjudicated as having reported it first.
If you really like playing blackjack online and I am not entirely off on what I am assuming the house edge to be, then this is an okay promotion...but only if you were going to be playing anyway. The overall value of the promotion is just slightly more than a dollar per hour, so if anyone was going to attack this hoping for a substantial profit, that's going to be fairly unlikely because:
1.) You might not be one of the first people to hit the hat trick.
And
2.) Given that you are betting $5 minimums and have a positive expectation of just over a dollar per hour, that means that losing just one more hand in excess of expectation otherwise would cause an overall loss for that hour.
Naturally, $1,000 is a handsome sum of money for many online players, so I would certainly not recommend avoiding this promotion if you already like live dealer online blackjack, I would recommend playing it! How often can you play blackjack online (straight up) at an advantage without taking advantage of some sort of deposit match bonus?
However, if you do not enjoy online live dealer blackjack, then I would suggest that there is no reason to play this promotion. I could probably make more than a dollar something an hour walking around the mall and staring at the floor looking for dropped coins.
Please don't confuse that statement with me calling the promotion chintzy, though. On the contrary, I think that this is a rather generous promotion on what is a very low house edge game to begin with. The profit margin on live dealer blackjack isn't the highest of any online casino game, so to give away $5,000 and even allow the game to be played at a positive expectation is something I find impressive.
Hail to the KIng!
The second promotion is one on live roulette by which the casino is giving away $3,500 (in $100 increments) if people playing live roulette are the first to type, 'Hail to the King!" when the name RoyalPanda pops up in the chat.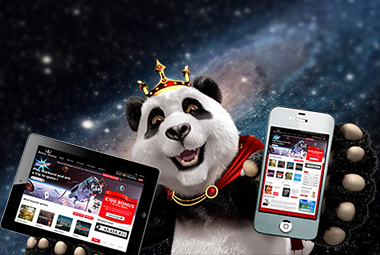 The two variables in this are how much the player is losing in the meantime combined with how many players could potentially enter the, 'Hail to the king!' before the player in question. The player must also have placed at least one real money bet of $5 within the previous five minutes.
Looking at this promotion, and assuming that a player wanted to play during the entire duration, we see that there are going to be thirty-five opportunities to win the $100 prize. During the week in question, there are a total of 10,080 minutes, which means that a minimum of 2016 bets would have to be made during this time. If a player is bucking a house edge of 5.26% and makes 2,016 bets at such house edge, (I'm assuming double-zero roulette) then the player shall lose about $530.21 meaning the player would have to be successful at least six times to profit.
Of course, this assumes a number of things: First of all, it assumes that the person is actually going to play the entire week (or have someone play for him) which is highly unlikely, but is, in fact, the easiest way to analyze the question at hand. The second thing is it is difficult to account for how many other players will be playing which will be competition when it comes to typing in the phrase that is being requested. Finally, it also assumes that a player plays with perfect efficiency making exactly one bet every 300 seconds, no more, no less. Many people could probably do that close to accurately, but I would imagine that the sum would result in a couple of unnecessary bets.
If there were no other players, and a player could just sit there and enter, 'Hail to the king,' every time without any competition whatsoever, then over the course of an entire 168 hour week, the player would profit just $17.68/hour. Of course, the value is nowhere near that due to the competition from other players...but it is impossible to quantify.
Other Panda Promotions
I normally wouldn't give Panda's Welcome Bonus match offer of $100 for $100 a second look because, in the terms and conditions, the maximum bets with bonus money are $7.50 for most games and $1.50 for a few slot titles. However, according to the Wizardofodds.com review, Royal Panda had a game called, 'All Aces,' with a 99.92% paytable.
Unfortunately, it now appears that, 'All Aces,' is gone, so what you are left with is a $100 match bonus with a 35x playthrough requirement on the bonus money which is actually a 350x playthrough requirement because table games and video poker only contribute ten percent to the wagering requirements. Vegas single-deck blackjack, which was also available at the time the Wizard did his review, also appears to be gone.
In fact, most of the blackjack games seem to be called something else, so the only blackjack game I can verify is one of the 99.6% return games. If we look at wagering 350x the amount of a $100 bonus, then we have $35,000 in total wagers with an expected loss of $140 which exceeds the amount of the bonus which is itself not cashable, anyway, so the promotion essentially cannot be beaten. I suppose a high variance game such as roulette betting that maximum allowable $7.50 on a single number and then switching games might offer an extremely small advantage, but I doubt it and the advantage would be so small as to be not worth exploring.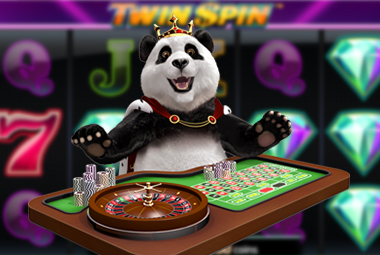 Conclusion
I would personally avoid any new member promotions at Royal Panda until they come up with something that is beatable for a reasonable amount of money. Besides that, a $100 match on $100 kind of sucks, anyway, and is a strange limit on a casino that seems to have its ducks in a row on making sure that the new player promotion is unbeatable. It doesn't matter how big of a deposit the casino is willing to match, if the max bet is going to be $7.50, then depositing more (bonus or otherwise) is a worse thing for the player to do than depositing less.
The value of the blackjack promotion is so low as not to be worth playing the promotion for that reason, unless you really want to make barely over a dollar per hour and the Roulette promotion's value cannot be meaningfully quantified as it would require knowing how many players there were at any given time, and how quickly they could all get the message out. I suspect that there are likely going to be enough people playing roulette that such promotion is unlikely to be very positive for those playing it. It would only be worth just over $20 an hour if you were the only player, and we know that's not the case.
Either way, the blackjack promotion is positive and the roulette promotion does give something to the players, so kudos to Royal Panda for being willing to absorb a fixed $8,500 loss between those two promotions. They aren't great, but they're better than nothing.
Posted by
Mission146