Sunset Station
by E.J. • July 8–9, 2009
Introduction
According to Wikipedia, Sunset Station is owned by Station Casinos, Inc., on 98 acres in Henderson. It opened in June of 1997 on the tail of the successes of Boulder Station and Texas Station, during the last great Las Vegas building boom. It is an upscale local's casino, primarily aimed at the over 50 demographic located in and around Henderson. The success of this model is seen in other similar casinos (Red Rock, Green Valley, M Casino, etc.). The casino includes a 21-story hotel with 527 rooms.
Sunset Station is located on the far eastern side, in Henderson, between Sunset Rd. and Warm Springs Rd., with access from Interstate 515. Heading east on Warm Springs leads to an easy entrance to the parking garage. Heading east on Sunset provides access to the front of the casino, valet parking, and front lot parking.
I drove through the parking garage then around to the front of the casino and parked in the front lot. There were plenty of spots available close to the main entrance. I noticed a lack of visible parking lot security guards in both the parking garage and front lot. There were bike racks by the movie theatre and by the front valet area.
To me, the most aesthetically appealing part of the casino is the 560 square meter stained glass ceiling above the table game area, near the casino's center. It consists of thousands of glass pieces and weighs twelve tons. Below its center is the Gaudi Bar. The area was inspired by the work of Spanish architect Antonio Gaudi and is visually stunning.
Gambling
According to the Nevada Gaming Control Board, and the casino web site, Sunset Station has 114,000 square feet of gaming space, with 53 table games and 2,435 slots. By comparison, New York New York has 84,000 square feet of gaming space, 70 table games and 1,740 slots.
The table games I found were blackjack, craps, Baccarat, Ultimate Texas Hold 'Em, Let it Ride, Three Card Poker, Mississippi Stud, Deuces Wild Hold 'Em/Fold 'Em Stud Poker, Crazy 4 Poker, Double Deck Super Fun 21, and the Wheel of Fortune. I also found the blackjack adjuncts "Lucky Lucky," "Headstart Hold 'Em" and the "Tie Bet."
I did a visual survey of the slot mixture, and estimated that over 50% of them were video poker, about 10% were keno and about 40% were traditional slots.
Hotel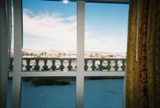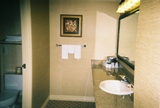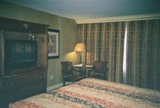 I registered online at the Sunset Station web site and clicked on a link that said "Vegas room rates from $39.99." There was an additional $14.99 convenience fee which seems very high to me. That's a 26.7% mandatory convenience surcharge. For this fee I got two free drinks at the Gaudi Bar, free local and long distance calls, wireless Internet, a daily paper, use of the fitness center, VIP at the buffet, and a 20% discount at the gift shop. I was also given a "Hotel Added Value" coupon sheet with coupons for meal specials, two free drinks, and various match play and free play coupons. Finally, because I am over 50, I was given two additional coupons for free drinks. If you're keeping score, that's six free drinks.
The bottom line is that the advertised $39.99 price, after the convenience fee and taxes, came out to $62.13.
I checked in early, around 1:30 PM. There was no line and I walked right up to the registration desk. I checked back several times during my stay and never saw a line at the registration desk. If there was a line issue, it would be handled Wendy's style: there were ropes available to be used if needed.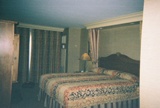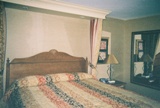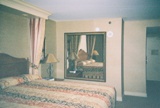 A room card was needed to operate the elevators and I noted regular and clearly visible security foot patrols inside the casino area.
The third floor room was nice for the price, about 400 square feet with no view. There was no sofa, hair dryer, desk, coffee maker, or refrigerator. The king sized bed was comfortable. The décor was faux elegant 1900's Victorian. The old-style T.V. got 24 stations with no HBO.
Pool
Although not an upscale pool, it was large, clean, and has an aesthetically pleasing design. There is plenty of space to lounge, private areas, grassy areas, huts, an outside bar, and more, but not much shade. The pool itself is entirely in the sun all day and not easily visible from the street or casino. It was 105 degrees the day I was there, and when I looked at the pool around 3 PM there were fewer than 10 people in the area.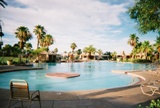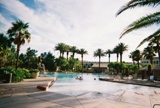 Restaurants
Restaurants at Sunset Station fall into a wide variety of categories: snack bars, fast/discount food, a buffet, low priced cafes, "upscale" Asian (Oyster Bar) and Italian (Capri Italiano Ristorante) with most entrees under $20, Hooters, and the "Sonoma Cellar Steakhouse" (e.g., $35 for a 3 course prix fix menu).
The buffet prices were $6.99 for breakfast, $8.99 for lunch, and $11.99 for dinner. The buffet lines were long, but if you stay at Sunset Station, you are given a VIP pass to the buffet.
I ate dinner at the "Oyster Bar" and had a bowl of absolutely delicious cioppino for $18 (mixed in were large Baja shrimp and fresh crab in the shell).
Entertainment
Entertainment includes "Club Madrid" with live music on Friday and Saturday nights, and the Sunset Amphitheatre (outside concerts by the pool). Unlike the strip, there are no headlining shows, but major bands play concerts about once a month. There was an upcoming "Ultimate Fighting Championship" advertised on the marquee. In the marquee's fine print it said "pay per view." The second Saturday of each month at 6PM there is a "Rockin' Poolside BBQ" with "Hot Music. Even Hotter Parties."
Movies
There is a 13 screen movie theater, with an IMAX theater. Shows start around 9AM and run all day, with the last show beginning (depending on the day) around 11 PM.
Bowling
The "Strike Zone Bowling Center" is an official PBA center and was voted the "Best Bowling Center" by the Las Vegas Review Journal's "Best of Las Vegas" poll. There are 72 lanes, leagues of all types, lessons, discounts for seniors and various groups, a pro shop, snack bar, lounge (with two pool tables), and video arcade for kids. There is a separate entrance to the bowling area from outside the casino so that kids don't have to go through the casino to get to the bowling.
Daycare / Kids
A daycare center called "Kid's Quest" is available for kids from 2 ½ years up to 12 years old. Depending on the day, the cost ranges from $6.75 to $8.00 per hour. Activities include a playground, video games, meals, karaoke and arts and crafts.
Sunset Station is a very kid friendly casino. Along with bowling, a pool, movies, and Kid's Quest, there are two separate video arcades and several kid-oriented TV stations. The Arcade/Kids area is secure and mostly separate from the main casino.
Bingo
I don't know much about bingo, so I can't comment on all the promotions, progressives, points, special sessions, and tournaments. Bingo sessions are played on the odd hours from 9AM to 11PM. The bingo room is quite large, with over 200 chairs and a large non-smoking area.
Keno
Given how spacious and abundant everything else is at Sunset Station, I expected a large keno area. I found a small keno lounge with 16 cushioned leatherette chairs which included a non-smoking section. Keno games go 24 hours a day about every 3-5 minutes. Winning tickets must be redeemed within 48 hours. The lack of keno space was more than made up by an abundance of keno slots.
Shopping
There was a decent sized gift shop but no other shopping. Sunset Station is located in a retail shopping district, so there are a wide variety of stores within easy walking distance.
Spa/Salon
There was no spa or salon at Sunset Station.
Exercise room
Located on the 2nd floor, it was well-equipped with a standard machine selection and free weights.
My review
Sunset Station has its niche; it is a family friendly local's casino with low-priced rooms, activities for everyone, with a pleasant, clean and upscale ambiance. It is clearly aimed at the 50+ demographic, but has plenty for kids and grandkids to do as well. It is not a high-roller casino and doesn't pretend. The entertainment for adults is limited. It was comfortable to play anywhere. Non-smoking areas abound. The dealers and staff were friendly and proactive. It's the corporate climate that encourages proactive responses, so kudos to Station's upper management. The low-end hotel room was sufficient but not great. The comps were generous and the food delicious. In summary, I thoroughly enjoyed my stay at Sunset Station.
Suggestions
The convenience fee ($14.99) is way too high compared to the room rates.
The comp system for slots/bingo/poker is transparent. Sunset Station could go a long way towards increasing the transparency of table games comps.
Given the size of the parking lots and other outside areas, I would like to have seen a few security guards outside the casino.
Links
Contact Information
Address: 1301 West Sunset Road, Henderson, NV 89014
Phone: 702-547-7777
Web site: sunsetstation.com