Gold Strike
Introduction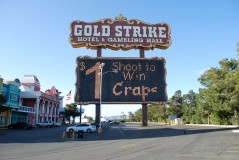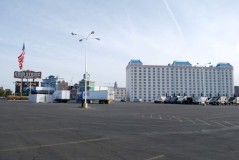 The Gold Strike is a roadside hotel/casino about 13 miles north of the California border along I-15, and about 32 miles south of downtown Las Vegas. Fitting with its name, the property has an old western gambling hall theme. Surprisingly, the Gold Strike is owned by MGM-Mirage, but you never know this without a little detective work.
The Gold Strike's strongest selling points are convenience for I-15 travelers and economy prices. Based on my stay, there isn't much gold left to find at the Gold Strike, judging by the fact that the place was nearly deserted. However, if you're just looking for a place to crash near Las Vegas, but not in it, then the Gold Strike is probably the cheaptest option from Primm to Mesquite.
History
The Gold Strike opened in 1990 in Jean, Nevada. Across the highway was its sister property the Nevada Landing. At the time, the only other nonrestricted casino between Vegas and southern California was Whiskey Pete's, just past the California border in Primm Nevada, although it was called Stateline at the time. In 1993 I took a bus junket from somewhere in the Los Angeles area to the Gold Strike, and the place was crowded and lively.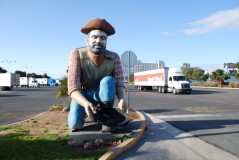 However, time has not been kind to the two casinos in Jean. Two large casinos were built in Primm and lots of tribal casinos opened in the San Diego area. No longer did the Gold Strike and Nevada Landing meet the needs of so many southern Californians looking for a gambling fix, who wanted to shave some time off the drive to Vegas.
In 2007 the Nevada Landing was closed and quickly torn down, leaving the Gold Strike all alone in the desert. Based on my visit the place seems like a magnet for truck drivers. There were lots of trucks parked there during my visit, easily outnumbering cars. Based on stereotypes, most of the patrons inside were truck drivers as well. They say truck drivers are adept at finding a good deal, and in the case of the Gold Strike I think they're right.
Gambling
According to the 2012 American Casino Guide, the Gold Strike has 37,006 square feet of casino space. By way of comparison, the MGM has 156,023. According to the Nevada Gaming Control Board, Hooters has 450 slot machines. By way of comparison, the MGM Grand has 2,470 slots. It was not difficult to count that the Gold Strike had seven table games, as follows:
Blackjack: 5
Craps: 1
Roulette: 1
Here are some details about the games.
Blackjack
There was one kind of legitimate blackjack game only. The rest were 6 to 5 blackjack. Here were the rules for the legitimate game:
Six decks
Dealer hits soft 17
Double after split -- YES
Surrender -- NO
Re-split aces -- NO
According to my blackjack house edge calculator, the house edge under these rules is 0.64%.
Craps
Double odds.
Roulette
Double zero.
Video Poker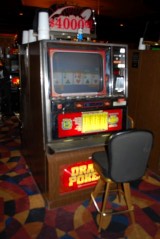 According to
VPfree2.com
, the Gold Strike has full pay deuces wild (100.76%) at the 25¢ denomination, as well at 25¢ 99.80% White Hot Aces, 25¢ 99.62% Double Deuces Wild, and 25¢ 99.54% Jacks or Better. VPfree2 does not indicate $1 99.73% deuces wild, which I found at many machines. According to VPfree2, the player club is worth 0.1% in cash back. By the way, despite being part of the same company, the Gold Strike program is separate from the other MGM-Mirage casinos.
Speaking of video poker, the Gold Strike had a set of four 9-6 games, which were the biggest video poker machines I've seen in my life.
Dining
When it comes to eating there are three choices at the Gold Strike.
Gold Strike Steak House: Open Wednesday to Sunday evenings. I didn't get the chance to try it because I was there the two nights of the week it was closed. Based on signage in the casino, it seems to be your basic Vegas economy steak house. In my many times passing the casino on my way to and from California I seem to recall cheap prime rib specials advertised on the highway marquee.
Bonanza Buffet: Simple and cheap. I had breakfast here. Not much variety but they did have an omelet station. Here are the prices:

Breakfast $6.99
Lunch: $6.99
Dinner: $10.99
Late night: $6.99

All day passes:

Before 10 a.m.: $19.99
10:01 a.m. to 4:00 p.m.: $15.99
4:01 p.m. to 11:59 p.m.: $12.99


Sutter's Snacks: This place is mentioned on the Gold Strike web site but I never noticed it when I was there. Probably because it was closed at the time.
Hotel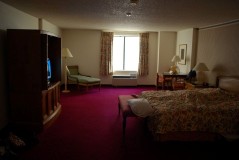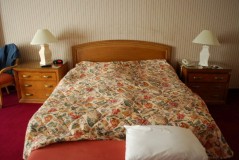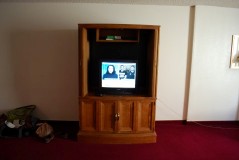 The Gold Strike rooms are of motel caliber. My room had everything one would expect, but the furnishings were dated and had accompanying wear and tear. The television was about a 25" cathode ray.
When I booked my reservation, I specifically requested a hard mattress. That request was evidently overlooked. It would not surprise me if the mattress in my room was the same one from the hotel opening 22 years ago. As a preventative measure, I slept on the floor.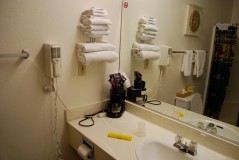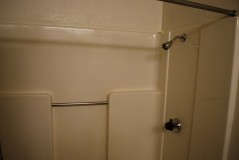 The Gold Strike gets its due points for an in-room coffee maker, something seldom seen even in fancy hotels in Las Vegas. However, no safe or shower. The heating/air-conditioning was a noisy wall unit.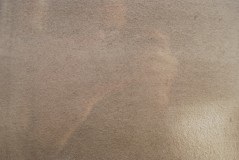 Until this review, the award for the worst view I have ever had was at
Terrible's
. However, with the Gold Strike a new winner has emerged. My room directly faced an empty wall of another part of the building about six feet away. Here is a picture of it. Yes, I did take the lens cap off my camera.
The rooms generally cost $40 per for a basic room, and $45 for a deluxe room, Sunday to Thursday. Weekends are generally $10 more. I opted to pay the extra $5 for the Deluxe room. This does not include the 12% Nevada room tax.
Amenities
Sorry, the Gold Strike doesn't even try when it comes to amenities. Part of the casino has a big screen TV with seating around it. I also noticed some stairs leading to an arcade, but I forgot to check it out. Signage in the casino indicated live musical entertainment, probably a lounge act, on weekends.
Several years ago I stayed here and recall that there was a pool, but there was no mention of one my last visit. It should be noted that the larger south tower is completely closed, and probably the pool along with it.
Summary
If you're driving up or down the I-15 and just want a cheap place to crash, it would be hard to beat the Gold Strike. The prices for rooms and food are very reasonable, it is right off the highway, and at least based on my experience, there was never a line for anything.
Another reason to keep the Gold Strike in mind is if Vegas is completely sold out or you're priced out due to a busy weekend, like the Super Bowl or New Year's. It is only about 20 miles south of the M casino, and about 25 from the South Strip casinos like the Mandalay Bay.
Links
Contact Information
Address: 1 Main Street, Jean, NV 89109
Phone: 800-634-1359
Web site: stopatjean.com
Play For Real Money With Any Of These Great Casino Bonuses
Related Forum Threads:
View More...